The History of the University of Colorado Anschutz Medical Campus
At the forefront since 2006
The University of Colorado Anschutz Medical Campus is a globally-recognized health center at the forefront of transformative education, science, medicine, and healthcare. Earning an online degree from CU Anschutz gives you the opportunity to collaborate with professors, practicing clinicians, and researchers for a meaningful, hands-on learning experience.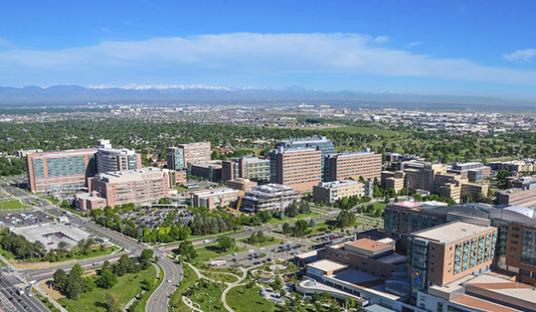 Accessible Health Science Education for Every Learner
We believe that every student should have the opportunity to earn a world-class degree or certificate — regardless of where they live. CU Anschutz brings the same high quality programs from our campus straight to your home with the Office of Digital Learning. We partner with the campus to provide innovative and unique digital learning experiences that fit into your busy life.
Our flexible courses are thoughtfully designed to make online and hybrid learning engaging, collaborative, and accessible from anywhere. From innovative technologies and hands-on experiences and projects to engaging discussions and career-focused coursework, we are committed to empowering you through education.
CU Anschutz students are part of a community pioneering cutting-edge ideas that lead to new therapies, treatments, and cures. When you're ready to take the next step toward joining our community, we're here to help you find a flexible degree program that meets your goals.
Why Should You Choose CU Anschutz?

Flexible Lifestyle
All of our degree programs are built to be online or hybrid, so you can learn from anywhere in the world and take your courses at a time that works for you.

Global Community
As a CU Anschutz student, you'll be connected to a dynamic network of over 480,000 University of Colorado alumni around the world.

Acclaimed Education
When you earn your degree in an online or hybrid format, you'll receive the same world-class education and University of Colorado diploma as our on-campus students.
Build Industry-Specific Skills
Our degrees and certificates are designed with your future in mind. We offer a wide range of fully online and hybrid programs in healthcare, health science, and public health to help guide your career.
During your CU Anschutz program, you will learn from and interact with active industry professionals, leaders, researchers, and subject-matter experts who are currently shaping healthcare and public health. Through a hands-on curriculum, collaborative projects, and experiential learning opportunities, you'll be able to ask questions, get feedback, and build your knowledge alongside a diverse range of faculty and classmates.
Advance to a new role, pursue your dream job, develop in-demand skills: your University of Colorado education can help you become more competitive in today's job market and equip you for your career path.
Accreditation and Authorization
The Higher Learning Commission (HLC)
The Higher Learning Commission (HLC) of the NCA is one of six regional accrediting agencies recognized by the U.S. Department of Education. Regional agencies provide accreditation at the institution-wide level, ensuring excellence in higher education across all University of Colorado programs. Institutions must meet specific criteria to be granted and maintain accreditation from the HLC. The initial accreditation process can take several years and is based on a system of peer review.
Why is accreditation important for students?
It offers quality assurance for the institution as a whole, including mission, finances, resources, and administration, which gives students and employers peace of mind about the credibility and validity of the institution.
It can make transferring credits easier, as most regionally accredited institutions only accept transfer credits from other regionally accredited institutions.
It affects students' ability to receive federal financial aid for their education and may even impact some private forms of aid as well like scholarships.
Accreditation verifies that institutions are creating an environment that fosters positive academic outcomes that impact student success after graduation.
Regional accreditation like the one granted by the HLC is also regarded as the most prestigious and prominent type of accreditation. Learn more about HLC accreditation at the University of Colorado Anschutz Medical Campus.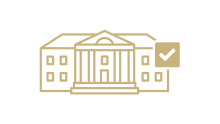 State Authorization Reciprocity Agreement (SARA)
The State Authorization Reciprocity Agreement (SARA) creates a state-level reciprocity process for online and distance education. Institutions participating in SARA are authorized through SARA to deliver online education to students living in other SARA-member states. Additionally, institutions can engage in a limited number of activities related to online and distance education.
Currently, students located in any state may now enroll in all online courses, programs, certificates, or degrees offered by the University of Colorado Anschutz Medical Campus.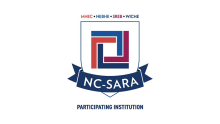 The Commission on Collegiate Nursing Education (CCNE)
The University of Colorado Anschutz Medical Campus College of Nursing programs are accredited by the Commission on Collegiate Nursing Education (CCNE), the national accreditation agency that ensures the quality and integrity of baccalaureate, graduate and residency programs in nursing.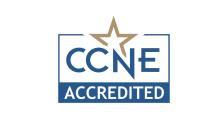 Online
Courses offered asynchronously, mostly online, without any face-to-face meetings. Contact time is satisfied by several means, including instruction or interaction with a faculty member, interactive tutorials, discussions, and class projects that engage peers and are overseen by faculty.
Hybrid
Courses offered primarily in a blended format with one or more on-site face-to-face class sessions and at least one or more online sessions, both containing interaction with a faculty member.
Remote
Courses offered primarily via Zoom or similar technology with a pre-determined meeting pattern that contains direct interaction with a faculty member. Contact time is assessed using the in-person definition.
In-Person
Courses offered primarily in face-to-face sessions with a pre-determined meeting pattern that contains direct interaction with a faculty member.