Overview
Explore best practices in evidence-based teaching and learning through this flexible, online Nursing Education Certificate. In this program, you'll combine clinical expertise with nursing education to pursue career opportunities in patient education, nursing education programs and community education.
The Nursing Education Certificate program facilitates learning through evidence-based strategies, focusing on practical nursing application and emerging practices in nursing education. This program will provide you with the knowledge and skills you need to develop curricula, teaching skills and evaluation strategies. Through the certificate courses, you will also learn how to integrate technology in the classroom, clinical and online environments.
With a Nursing Education Certificate, you can broaden your career options and prepare yourself for a role in nursing education.
Program at a Glance
Degree Program:
Nursing Education Graduate Certificate
Offered By:

Program Details
The nine-credit Nursing Education Certificate program consists of three required courses, each 3 semester credit hours. You can complete the certificate in one year or take as individual courses. These graduate-level credit courses are designed to provide an additional professional development opportunity for registered nurses interested or engaged in nurse preceptor, clinical educator or academic nurse educator roles. These courses emphasize:
Evidence-based and theory-guided best practices in contemporary teaching and learning across settings and modalities, emphasizing integration of educational technologies
The evolving science of nursing education and the scholarship of teaching, including core competencies, roles, and responsibilities of nurse educators
Learner assessment and program effectiveness, connecting curriculum design and course development to achievement of desired outcomes and continuous improvement
The optional elective, not required for the Nursing Education Certificate, offers a preceptored practicum immersion with individualized, focused learning designed for relevancy to the specific teaching practice experience, role, setting and goals.​​
---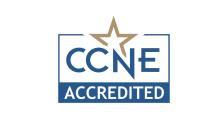 CCNE Accreditation 
The baccalaureate degree in nursing, master's degree in nursing, Doctor of Nursing Practice and post-graduate APRN certificate at the University of Colorado College of Nursing is accredited by the Commission on Collegiate Nursing Education, 655 K Street, NW, Suite 750, Washington, DC 20001, 202-887-6791.
The Commission on Collegiate Nursing Education (CCNE) is the national accreditation agency that ensures the quality and integrity of baccalaureate, graduate and residency programs in nursing by requiring strict standards of excellence to receive accreditation. When you graduate with a BSN degree from CU Anschutz, you'll start your nursing career with confidence knowing that you received a high-quality degree from a university with a rich history of over 100 years of nursing education. 
---
Admissions
Admission requirements and deadlines vary based on the program. In addition, you will have different requirements depending on if you are a first-time student, a transfer student or an international student.
Learn more about the admissions process by filling out the form above today.
---
Example Courses
NURS 7862 — Best Practices to Enhance Teaching and Learning
NURS 7864 — Evolving Nursing Education Science and Nurse Educator Roles
NURS 7865 — Outcome-Focused Curriculum Design and Program Evaluation
NURS 7863 — Immersion in Nursing Education Practicum