Overview
As a professional nurse, you are committed to your job and your patients. Your work, family and social commitments keep you busy, and yet you can envision a career path that involves a leadership position and administrative responsibility. The online Master of Science in Nursing (MS Nursing) – Leadership, offered online through the University of Colorado College of Nursing, is a proven path to leadership in the nursing profession.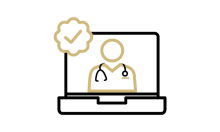 Program at a Glance
Degree Program:
Leadership (iLEAD) Single Specialization
Offered By:

Program Details
We call the program iLEAD, which stands for Innovation in LEadership and ADministration in Nursing and Health Care Systems. We meet you where you are in your career to help you reach your educational and professional aspirations. Students who graduate from the iLEAD program are eligible to take the AONE or ANCC Nurse Executive certification.
Our exceptional faculty teach this course in a fully online format. All coursework and exams are taken online and your hands-on practicum can even be completed in your home state. Our graduates are talented, qualified leaders and administrators who are prepared for exciting new jobs and promotions across the continuum of nursing.
Our students and graduates work in primary care, long term care, skilled nursing, correctional facilities, home health positions, acute care and more. They are trained in relevant, evidence-based research and best practices by full-time faculty who are researchers, nurses, and teachers.
When you begin your online MS in Nursing Leadership journey with us, you will be connected to a network of incredible nursing leaders and administrators, starting with our faculty and your peers in the program. This network will challenge you, motivate you and provide you with new career opportunities.
iLEAD is the ideal program for motivated nursing professionals who are ready for a graduate degree that is flexible, well-regarded and innovative.
As an i-LEAD student, knowledge gained in cultural competence, informatics, and evidence-based practice will provide you with the ability to excel in today's complex and changing health care system.
i-LEAD is designed for nurses who are currently working full-time in medical settings across the continuum of nursing care. The master's program is purposefully designed as a streamlined degree, with only 30 required credit hours. These credit hours include purposefully designed courses in informatics, leadership theory, health policy, evidence-based practice and a hands-on practicum or internship.
The program is fully online and taught by professional educators who are also nurses and researchers. Our faculty are highly qualified and well regarded. Because it is fully online, you can enroll in this program no matter where you live. Tuition is the same for students in Colorado and those who live out of state.
Our graduates are prepared for professional advancement in leadership positions in their current workplace. You can also expect to be qualified for numerous opportunities with new employers, where you will be a highly prepared and desirable candidate. You could also transition seamlessly into one of our doctoral programs, either the PhD in Health Systems or the DNP in Health Systems Leadership.
---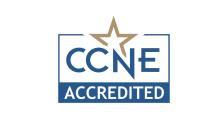 CCNE Accreditation 
The baccalaureate degree in nursing, master's degree in nursing, Doctor of Nursing Practice and post-graduate APRN certificate at the University of Colorado College of Nursing is accredited by the Commission on Collegiate Nursing Education, 655 K Street, NW, Suite 750, Washington, DC 20001, 202-887-6791.
The Commission on Collegiate Nursing Education (CCNE) is the national accreditation agency that ensures the quality and integrity of baccalaureate, graduate and residency programs in nursing by requiring strict standards of excellence to receive accreditation. When you graduate with a BSN degree from CU Anschutz, you'll start your nursing career with confidence knowing that you received a high-quality degree from a university with a rich history of over 100 years of nursing education. 
---
Tuition and Fees
Investing in your future is a big decision. However, becoming a fully online student at the University of Colorado is a high-quality and affordable option for learners of all types. Tuition and fees are based largely on the degree program you enroll in.
The tuition amount assessed is determined based on which University of Colorado campus, school, or college is offering your degree program, as well as if it is at the undergrad or graduate level, and finally your resident status. Visit our tuition and financial aid page for more information.
Financial aid and scholarships are available for those who qualify.
---
Timeline
Most of our students do their coursework full time, even though they are also employed full-time as nursing professionals. You can successfully work and take courses simultaneously because of the flexibility of our asynchronous, online coursework as well as the fact that we are accustomed to working with employed students. Your professors understand the unique challenges that accompany getting an advanced degree while working full-time.
The i-LEAD program requires a total of 30 credit hours for completion. Students who take a full-time courseload of six credit hours in the spring, six in the fall, and three in the summer can complete their master's degree in just two years. If you need additional time and flexibility, we are happy to work with you on a schedule that fits your needs.
---
Admissions
Admission requirements and deadlines vary based on the program. In addition, you will have different requirements depending on if you are a first-time student, a transfer student, or an international student.
Learn more about the admissions process by filling out the form above today.
---
Career Outlook
One of the main reasons that nurses pursue graduate degrees is career advancement. Professional nurses with a MS in Nursing Leadership can move upward in their employment, into leadership and administrative positions. These positions generally come with additional responsibilities, authority, and pay.
The Bureau of Labor Statistics expects Medical and Health Services Managers to experience faster than average growth over the next ten years.
Here are some of the career opportunities that you could expect after graduation:
Healthcare Administrator
Nurse Administrator
Nursing Director
Chief Nursing Officer
---
Courses
To complete the i-LEAD program, you must complete all required courses and a hands-on practicum. This degree consists of 30 credit hours and can be completed in as little as two years.
Example Courses
NURS 6009 — Theory Foundations for Advanced Nursing
NURS 6286 — Foundations of Healthcare Informatics
NURS 6109 — Evidence-Based Practice: Evaluating Evidence
NURS 6793 — Relational Communication
NURS 6070 — Policy & Politics of Health
NURS 6790 — Systems & Leadership Theory
NURS 6794 — Decision Support
NURS 6973 — State of Science: Systems
NURS 6795 — Admin Internship
NURS 6108 — Inferential Statistics
---