Cannabis Science Master's Degree Overview
As the medical cannabis industry continues to expand and develop new approaches to patient care, there is a growing need for scientists and healthcare professionals who can advance plant-based research and provide innovative medical care. Through our Master of Science in Pharmaceutical Sciences with a specialization in Cannabis Science and Medicine, you'll gain a strong foundation in the pharmaceutical sciences while honing your expertise in cannabis pharmacology, therapeutics, and pharmaceutical principles of drug action and safety.
Our flexible, 100% online degree program brings together students from around the world to learn from international experts on the scientific investigation, quality assurance, and clinical evaluation of cannabis-based products. With hands-on projects, innovative coursework, and engaging discussions, this graduate program will empower you to build a successful career in the emerging field of cannabis and other plant-based medicines.
Program at a Glance
Degree Program:
Master of Science in Pharmaceutical Sciences
Offered By:

Program Details
The pharmaceutical sciences field is constantly seeing rapid advances that are critical to the discovery and development of drugs for chronic diseases, such as cancer and diabetes, and emerging threats, such as new pathogens and drug resistance. Our MS in Pharmaceutical Sciences is a two-year master's degree that offers students the opportunity to train in the latest advances in pharmaceutical sciences and learn the cutting-edge approaches and techniques necessary for new drug development and application. When you specialize your degree with a Cannabis Science and Medicine (CSM) track, you'll also gain a deep understanding of how medical cannabis and other plant-based medicines are being used to affect patient outcomes and guide patient care.
Our innovative CSM graduate program is designed for pharmacists, nurses, physicians, and other healthcare professionals who want to optimize overall clinical outcomes, enhance their knowledge of cannabis chemistry, and better serve their patient populations. Throughout your degree, you'll take advanced courses in cannabis pharmacology, therapeutics, chemical analysis, and legal and regulatory issues in cannabis science and medicine. Our cannabis science and medicine master's program will help you discover the potential benefits and risks of medical cannabis so that you are able to effectively answer patients' questions and provide safe, high-quality care.
MS in Pharmaceutical Sciences Learning Objectives
The MS in Pharmaceutical Sciences program has designed several goals and learning objectives to guide the program's curriculum and enhance student outcomes. Upon completing the Master's in Pharmaceutical Sciences curriculum and capstone project, you'll be able to:
Demonstrate knowledge of core concepts in basic and clinical pharmaceutical sciences.
Critically evaluate the scientific literature.
Demonstrate proficiency in assimilating and interpreting assigned subject matter.
Develop basic skills in the responsible conduct of research.

Formulate hypotheses based on current concepts.
Design potential research projects.
Plan data analyses in the context of existing literature.

Communicate scientific assessments (e.g., literature reviews) effectively through oral presentations and written reports.
Establish a professional plan for a career in science.
The Skaggs School of Pharmacy and Pharmaceutical Sciences
The Skaggs School of Pharmacy and Pharmaceutical Sciences at the CU Anschutz Medical Campus is an internationally recognized institution committed to excellence and innovation in education, research, public health advocacy, and patient care. Our school is home to the Center for Pharmaceutical Biotechnology, the Center for Translational Pharmacokinetics and Pharmacogenomics, and the Colorado Center for Nanomedicine and Nanosafety. Together, these centers contribute to a wealth of expertise in pharmaceutical sciences. With our award-winning faculty, cutting-edge technologies, and innovative curriculum, we prepare our students to become leaders in the emerging pharmaceutical careers of the future.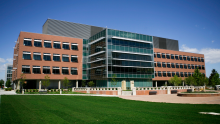 Master's in Pharmaceutical Sciences Curriculum Overview
Throughout your master's degree, you'll take flexible online courses and participate in case-based discussions with clinical practice experts, researchers, medicinal plant chemists and pharmacologists, and legal and regulatory leaders. Our core curriculum offers coursework in the fundamentals of pharmaceutical sciences, ethics, and biostatistics. When you specialize in the CSM track, you'll take cannabis science and medicine-specific courses in topics such as endocannabinoid physiology and cannabinoid pharmacology, clinical therapeutics of cannabis and cannabis-derived products, the chemical analysis of cannabis, scientific writing, seminars, and legal and regulatory considerations in cannabis research and therapeutics. You'll further tailor your degree to your interests through elective coursework in drug development, toxicology, pharmacogenomics, or public health topics. Your graduate degree will culminate in a capstone project focused on a cannabis-related topic.
MS in Pharmaceutical Sciences Core Courses (12 credits)
To complete your master's degree, you must complete these required courses:
Fundamentals of Pharmaceutical Sciences (PHSC 7310)
Ethical Issues in Toxicology & Pharmaceutical Sciences (PHSC 7400)
Applied Statistics for Pharmaceutical Sciences & Toxicology (PHSC 7565)
Capstone in Pharmaceutical Sciences (PHSC 6990)*
*Literature or lab-based capstone. Students may also choose a year-long, 6-credit research thesis elective which meets the capstone requirement.
Cannabis Science & Medicine Track (15 credits)
The CSM specialization requires that you take the following courses:
Cannabis Pharmacology & Endocannabinoid Physiology (PHSC 7700)
Cannabis Therapeutics: Emphasis in Pain, Oncology Supportive Care, and At-Risk Populations (PHSC 6720)
Chemical Analysis of Cannabis (PHSC 7710)
Chemical Analysis of Cannabis Laboratory (PHSC 7711)*
Scientific Writing in Cannabis Science & Medicine (PHSC 7705)
Cannabis Therapeutics: Emphasis in Neurology & Mental Health (PHSC 6710)
Seminar in Cannabis Science & Medicine (PHSC 7720)
Legal & Regulatory Issues in Cannabis Science & Medicine (PHSC 6730)
*Fully online students may opt to replace the on-campus laboratory course with an additional elective.
Elective Courses (3 credits)
You'll select at least 3 credits from a list of approved electives to complement your degree, including:
Molecular & Target Organ Toxicology (TXCL 7322)
Development of Drugs & Biologics (PHSC 7330)
Pharmacogenomics (PHSC 7025)
Design & Conduct of Clinical Research (BIOS 6648)
Regulatory Environment of Life Science Innovation (BSBT 6802)
Immunology: Immunotoxicology & Immunopharmacology (TXCL 7353)
Mental Health & Wellbeing Promotion (PMHW 6621)
Environmental & Target Organ Toxicology (TXCL 7323)
Nanotechnology & Drug Delivery (PHSC 7345)
Liposome-Based Drug Delivery (PHSC 7660)
Social & Behavioral Factors & Health (CBHS 6610)
Health Policy (HSMP 6605) Mental Health (PMWH 6601)
Behavioral Health Systems & Policy (PMWH 6620)
Career Outlook
The medical cannabis industry is booming, and there are currently more than two million medical cannabis patients in the United States. Medical cannabis is legalized in over 33 states and US territories, and industry analysts say that the market size of cannabinoid-based pharmaceuticals will only continue to grow. As this industry rapidly evolves, there is a high demand for healthcare professionals and scientists who have advanced knowledge and training in the field of medical cannabis.
Earning your pharmaceutical sciences master's degree with a specialization in cannabis science and medicine can help you stand out in a competitive field and could potentially increase your job prospects. In fact, the Bureau of Labor Statistics predicts that pharmaceutical sciences jobs in the US and Colorado are expected to increase by 11.4% and 16.5%, respectively, through 2026 – much higher than the average for all occupations.
Our master's program is designed to help scientists, pharmacists, physicians, and other healthcare professionals become leaders in the pharmaceutical sciences. Whether you're interested in joining the pharmaceutical industry, exploring academic research, or enhancing your current health sciences background, our program can help you establish a successful career.
Pharmaceutical Sciences Job Titles
Pharmaceutical Scientist
Cannabis Laboratory Scientist
Clinical Researcher
Biochemist
Medicinal Plant Chemist
Biomedical Researcher
Research & Development Scientist
Regulatory Affairs Specialist
Pharmaceutical Sales Representative
Medical Scientist
---
Tuition & Fees
At CU Anschutz, we strive to keep our tuition costs affordable so that you can get a world-class education that fits your budget. When you earn a degree, you're not simply getting a diploma — you're making a lifelong investment in yourself and empowering your future career. We know that affordability is an important factor, and that's why we're here to help you explore all of the options available to fund your education.
We can answer any of your questions about tuition and financial aid, help you take care of the paperwork, and make sure you're able to focus on reaching your goals. From financial aid and scholarships to corporate tuition assistance programs, we'll work with you to find the best way to finance your CU Anschutz degree.
Application fee: $100
Total tuition for the MS in Pharmaceutical Sciences program*:
In-state tuition: $23,190
Out-of-state tuition: $37,080
*Estimated tuition costs based on required credit hours for the MS in Pharmaceutical Sciences degree (30 credits). Additional fees may apply. Contact us using the form above for more details.
Financial Aid
Financial aid is available for eligible students to use toward paying educational costs while enrolled in a CU Anschutz program. To determine your eligibility and apply for financial aid, you'll need to fill out the Free Application for Federal Student Aid (FAFSA). When you submit your FAFSA, you will be considered for three types of aid: grants, work-study, and student loans. To be considered for federal financial aid, you will need to apply early and annually.
Scholarships
Once you are admitted to the University of Colorado, you'll have access to our internal scholarship portal where you can view and apply to many funding opportunities offered by the university. Scholarship opportunities typically require an application and may have specific eligibility requirements related to a student's academic merit, financial need, community service, work experience, and more. Unlike financial aid loans, scholarships are gift aid that does not have to be repaid. As a student, you will be able to apply for scholarships every semester.
Transfer Credits
If you are applying as a transfer student, your coursework from other colleges and universities could count toward your University of Colorado degree requirements. Transferring credits to your CU Anschutz degree program may help you save on tuition costs and complete your degree sooner. Once you are admitted to the university, a transfer credit evaluation will be performed to determine how many transfer credits are eligible to apply to your degree.
Veteran & Military Student Benefits
CU Anschutz is military-friendly and committed to providing service members and their families with a high-quality education that fits their distinct needs. As a CU Anschutz student, you will have access to the Office of Veteran & Military Student Services (VMSS), which connects veteran, active duty, reservist, National Guard, and dependent students with fundamental support, services, and resources to ensure academic and professional success. Our veteran and military students may use both veterans benefits and financial aid to pay for their education. Military benefits with CU Anschutz include: Waived application fee GI Bill benefits Potential to be awarded credit hours for military training and experience Free tutoring and academic support Connect with us using the form above to learn more about the benefits and financial assistance available to military and veteran students.